Armchair Explorer: Sample Local Flavors & Exotic Drinks in Europe, Japan
Uur weekly burst of travel inspiration from
Journease Travel
(717) 462-4806
Variety is the spice of life. When we vacation, we fill our days with a bountiful variety of new flavors in the destinations we explore. We sample local cuisines and exotic beverages to expand both our minds and our palates, thus introducing new sensations that deepen our appreciation for life. As travel professionals, we use our in-depth destination knowledge to guide you to the food and beverages you must experience firsthand. We offer unique restaurant recommendations, show you which markets to visit and know restaurateurs and vintners who can give you insights into the regional cuisine. That's why we vacation — Contact our expert advisors today to savor all the flavors of the world.
NEW TWISTS IN THE OLD WORLD From modern spotlight affairs of artful presentation to the simple beauty of authentic longstanding staples, here are four European cities that exemplify the elegant intersection of cuisine and culture. READ MORE
THE RISE OF BRITISH GASTROPUBS Gastropubs are a winning combination of authentic pub ambiance and traditional British cooking. Featuring fresh, local ingredients and highly trained chefs, these gastropubs are at the forefront of an exciting culinary movement.READ MORE RAW DEAL: SUSHI IN JAPAN Think of Japanese food and you'll probably think first of sushi. But once you visit Japan — and believe us, you should — you'll discover they treat sushi a bit differently.
READ MORE
See Your World, Your Way with Oceania Savor the world with the finest cuisine at sea™ aboard Oceania's intimate and luxurious ships. Their commitment to cuisine shines through artisanal ingredients and an array of gourmet restaurants, but truly comes to life with their passionate chefs who craft each recipe from the heart. READ MORE
 This is Why YOU Vacation Each week, we ask you to post your favorite vacation photos on Instagram to show the world why you vacation. Here are our faves, showing that these three vacations to sample new experiences. To find your personal photos in next week's email, keep adding more vacation pics on Instagram, including a comment explaining why you love to travel and tagging your post with #WhyWeVacation. 
Look out for another installment of Armchair Explorer next week!And feel free to contact our agency about any travel questions you have.Until next time … (717) 462-4806

TRAVEL BETTER WITH YOUR TRAVEL EXPERT.
We're here to ensure your vacation exceeds all expectations.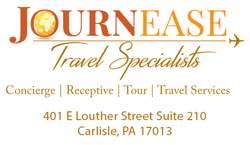 Please do not reply to this message.
Replies to this message are routed to an unmonitored mailbox.

Journease Travel
401 E Louther Street Suite 210
Carlisle, PA 17013
 

Make sure your travel agency offer emails are delivered:
Add [email protected] to your address book.

This email has been sent to [email protected], from Travel Leaders Network, on behalf of Journease Travel.
We hope you enjoyed receiving information on our latest featured offers.

If you would rather not receive these communications, unsubscribe here.

Copyright © 2020, Travel Leaders – All Rights Reserved.
Designated trademarks and brands are the property of their respective owners.
All prices are subject to availability and change.